Australia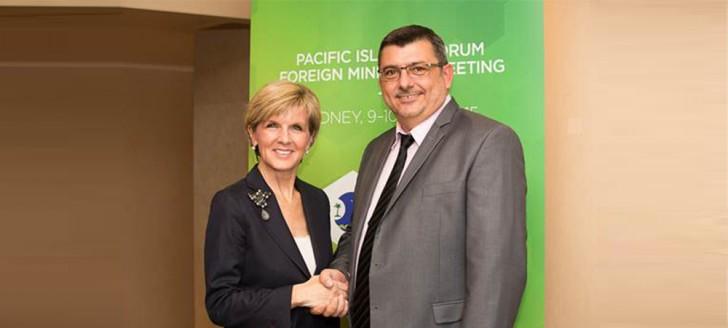 The cooperation between New Caledonia and Australia relies on a « North-North » relationship, that is to say between developed countries. It is characterized by collaborations between administrations and research institutes, as well as by significant business relationships between economic actors.
Important human mobility is also a feature of the relationship between Australia and New Caledonia, not only because of economic relations, but also tourism, as well as student and cultural exchanges.
The regular bilateral relations between the two countries lead to an official visit by the President of the Government of New Caledonia, accompanied by a delegation of elected officials and economic actors, in October 2016. These high-level meetings, which took place in Brisbane and Canberra, strengthened the political links between Australia and New Caledonia.  This mission was an opportunity to showcase New Caledonia's private sector during the Business Forum organized in Sydney and Brisbane.  During this mission of economic diplomacy, the President of the Government of New Caledonia and its Australian interlocutors agreed to establish a strengthened partnership founded on a joint cooperation plan. This partnership agreement will consolidate and entrench cooperation between the two countries in key areas such as the economy and trade, research and innovation, the environment and sustainable development, health, francophonie and sports. In terms of education and collaboration between universities, bilateral relations will be strengthened following the opening of bilingual international Australian sections in a middle and a high school in Nouméa, for the start of the school-year 2017. Since some of these areas fall within the Australian States' prerogatives, specific partnerships  will be established with Queensland and New South Wales from 2017-2018 onwards.
Furthermore, the Australian Federal Government has decided to add New Caledonia to the list of country eligible to receive Australian students as part of the « New Colombo Plan » from 2018 onwards.  This program will enable Australian students to benefit from scholarships to pursue their studies in New Caledonia.