Fidji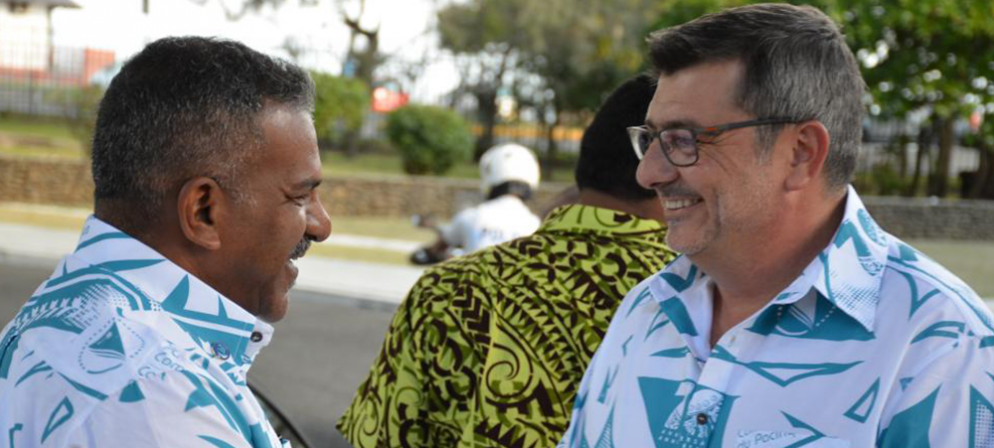 The cooperation with Fiji is essentially focused on the development of "la francophonie".
As part of the Pacific Fund and for a number of years, New Caledonia has been co-financing a program enabling the creation of a network of French Language Teaching Assistant in Suva's main schools (Suva Grammar School, Marist Brothers School) as well as USP (University of The South Pacific).
These Teaching Assistants come from the University of New Caledonia's  Teaching French as a Second Language Program, which leads to the granting of a bachelor's degree in the subject and offers the opportunity  to acquire some professional experience in another Pacific country.
Since 2012, this program also enables a young Fijian Assistant to teach English as a second language at the Pouembout High School.
New Caledonia also supports the Alliance française in Suva. An agreement signed during the Forum francophone du Pacifique enabled the opening of an exhibition area dedicated to New Caledonia within the Alliance's headquarters.  This showcase contributes to the promotion of New Caledonian culture through a document database (books, CDs, comics), accessible to the public. Finally, New Caledonia, in partnership with the Alliance française, sends artists to participate to the Fête de la Musique.
On 20 February 2016, cyclone Winston hit Fiji. This weather event of a rare intensity killed 4 people and left 32 000 others homeless as numerous homes and infrastructures were completely destroyed. To help the people affected by the biggest cyclone in Fiji's history, New Caledonia proposed to make 15 million XPF available as emergency aid.