The OCTs, Europe's staging Posts in the Pacific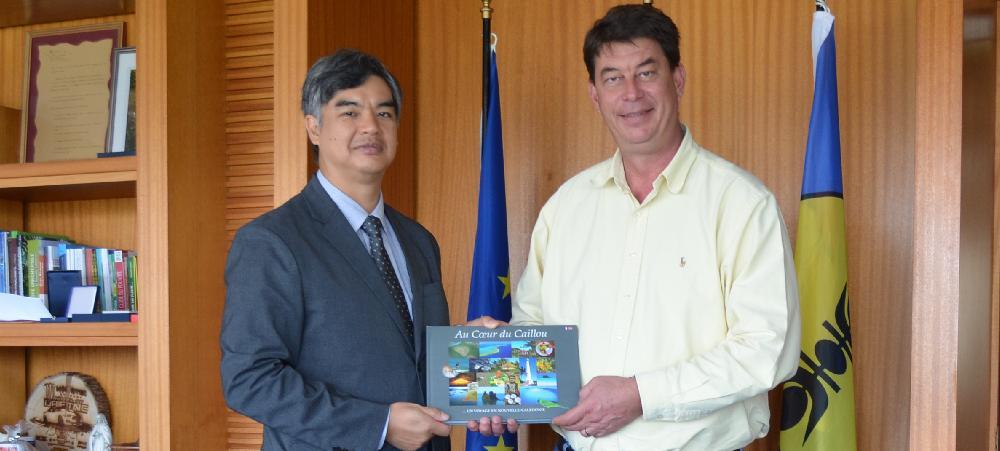 The President of the Government, Thierry Santa, met the Ambassador of the European Union to the Pacific, Sujiro Seam, on 4 December, as part of his first official visit to New Caledonia. The high-level meeting satisfied  both participants.  
After a political and institutional  review, Sujiro Seam and Thierry Santa discussed the 11th  EDF ( European Development Fund) Support Program, focused on employment and professional  insertion. New Caledonia could benefit from an envelope amounting to 3.6 billion XPF as part of the program, if it meets all the evaluation criteria.
Priorities for the next Territorial Program were also disscussed. They could include climate change, sustainable development, the economy, and digital technologies but they must be collegially discussed and  approved  by Government Ministers.
The OCTs Are More and More Dynamic…
 The Pacific Territories Regional Project for Sustainable Ecosystem Management (PROTEGE), funded by the 11th EDF regional envelope, was another major topic of discussion.  This project, which involves the 4 Pacific Overseas Countries and Territories (OCTs) New Caledonia, Wallis and Futuna, French Polynesia, and Pitcairn– , "is making good progress," agreed the President and the Representative of the EU to the Pacific, who monitors the PROTEGE with the help of his local office at the South Pacific Community (SPC). A Strategic Overview is expected during the next Steering Committee, which should be held in late March in French Polynesia.
…and Acting as Relays for EU Actions
Thierry Santa and Sujiro Seam finally discussed New Caledonia's upcoming Chairmanship of OCTA (the association gathering the EU'S OCTs) and the President's desire to facilitate access to EU programs (Erasmus+, Horizon 2020, Life…) for the OCTs, so as to enable them to optimize their reponses to Calls for Projects. "Pacific OCTs can become genuine relays for European Union actions in the region," declared  the President. "To that end, it is necessary to strengthen our relations.