New Caledonia and French Polynesia United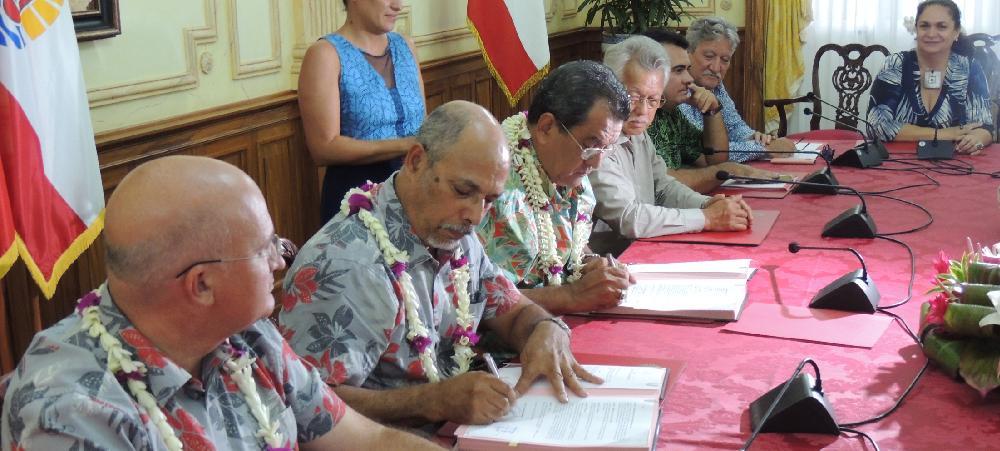 A delegation led by Vice President, Gilbert Tyuienon, and Ministers Yoann Lecourieux and Vaimu'a Muliava, made an official visit to French Polynesia from 10-13 December to lay the groundwork for a Framework Agreement which will define areas of cooperation between the two territories.
 A French-speaking cousin dear to New Caledonians' heart, French Polynesia is about to become one of New Caledonia's privileged partner. The first step of this  rapprochement occured on Thursday 12 December with the signing of a Memorandum of Understanding between New Caledonia and French Polynesia.  A mutual commitment which reafirms the two archipelagoes'  desire to rely on their Oceanian and French identities to combine their efforts to benefit  both collectivities and their populations.
«Beyond the political act, it is indispensable that people bring this partnership to life  through their associations, their City Councils or their companies," declared Gilbert Tyuienon,
A Cooperative and Friendly Relationship
This Memorandum  of Understanding lays the groundwork for  a Cooperation Agreement  which should be finalized, with the President of the French Republic Emanuel Macron, in attendance, during the One Planet Summit, which will take place in April 2020 in Tahiti.
After Vanuatu, Wallis-and-Futuna or New Zealand, French Polynesia –  who became a full member of  the Pacific Islands Forum (PIF) at the same time as New Caledonia in September 2016 - should become one of New Caledonia's major partners at a regional level.
Economic, Social, Cultural, Athletic Development…
 Areas of mutual interests such as Tourism, Fisheries or Handcraft have already been identified ( see box below) during initial discussions. These sectors provide "many opportunities for our young people," declared Vaimu'a Muliava. In order to explore possible cooperation avenues," working groups will be established in both territories  to identify areas in which we would like to cooperate, and they are many!," added  Yoann Lecourieux, confident that this Agreement rests on "a solid and mature relationship."
Possible Areas of Cooperation
- Natural resources Management, notably marine, in a context of ever increasing climate change ;
- Exchanges betwen Art Institutions and Government Departments ;
- The mutualization of training programs in Tourism, Hospitality, Civil Security, Seafaring oOcupations, Mining and Quarrying ;
-Health Policies, notably regarding non-communicable diseases ;
- E-administration and digital technologies development ;
- Modalities of  territorial continuity in transportations;
- Research, and development and inovative projects, notably regarding product standardization;
- The definition of shared technical and policy positions in regional and international agreement negotiations.