New Caledonia's Representation to New Zealand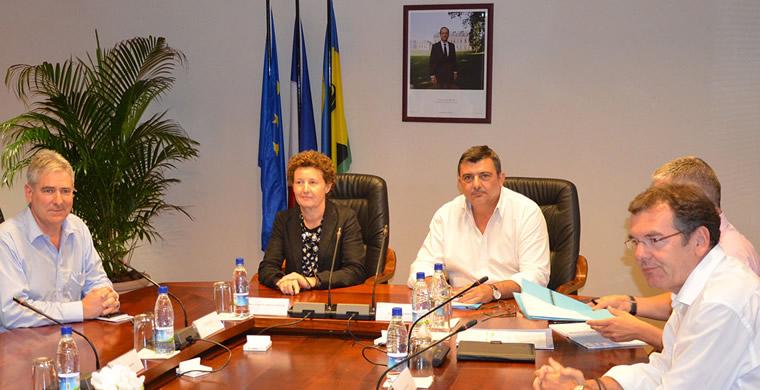 H.E. Florence Jeanblanc-Risler, the French Ambassador to New Zealand, was welcomed by New Caledonia's President Philippe Germain on the occasion of her visit on Tuesday 3 November. Among the discussions, the posting of New Caledonia's Representative to New Zealand was renewed. 
The development of political relations, cooperation and regional integration were at the core of the discussions which took place. President Philippe Germain and HE Florence Jeanblanc-Risler signed an agreement which extends the mission of the Official Representative of New Caledonia to New Zealand since he first took up office in 2012. Yves Lafoy is the first New Caledonian Representative to be (?) posted in a Pacific country, at the French Embassy in New Zealand (?). This was made possible thanks to an agreement signed in January 2012 between France and New Caledonia, the latter being competent to pursue its own international policy. The objective is to develop this type of representation in other countries within (?) the region.
Strengthening economic ties
One of the Official Representative's missions is to strengthen the political dialogue and economic exchanges with the Pacific countries. According to the President of the New Caledonian government, it is "a key element for sustainable institutional and economic relationships." In New Zealand, Yves Lafoy will focus on growing bilateral cooperation in areas such as: Culture, education, science, economy, trade, etc. For the years to come, the President of the New Caledonian Government has assigned the Official Representative a mission mainly focused on the economic sector to develop trade exchanges and guide New Caledonian business people who wish to scout the New Zealand market. The question as to the economic relations between the two countries was raised along the discussions between H.E. Florence Jeanblanc-Risler and President Philippe Germain as she participated to three roundtables organised by the New Caledonian government, bringing together the actors from the New Caledonian economic sector.