Health crisis and Climate Emergency Take Center Stage at the PIF Leaders Retreat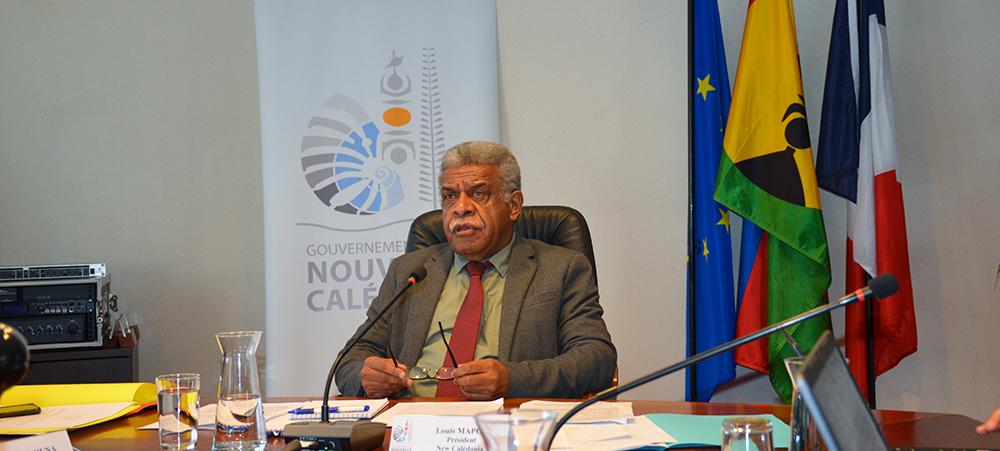 The 51st Pacific Islands Forum (PIF)  Leadears Retreat was held on August 6 by videoconference. The President of the Government, Louis Mapou, represented New Caledonia at this high-level meeting, which notably adopted a declaration on the preservation of maritime areas in the face of rising sea levels due to climate change.
This year's Pacific Islands Forum Summit was marked by the celebration of the 50th anniversary of the first meeting of PIF Heads of State and Government, August 5-7, 1971, in Wellington, New Zealand (see box). In keeping with tradition, the closed-door "leaders' retreat" began with a virtual handover of the Forum's chairmanship from Tuvalu to Fiji due to the pandemic. The issue of regional management of the health crisis,  the vaccination campaign and the economic recovery initiatives, were at the heart of the initial discussions. In order to facilitate the equitable distribution of Covid-19 vaccines in the Pacific, PIF leaders committed to "ensure regional vaccine coverage of 80% of the eligible population (...) in order to contain the spread of the virus and ensure a sustainable economic recovery".
Working Together
"The pandemic forces us to go beyond ourselves, and in particular to explore new ways and the best means to cooperate. We need to work together, as quickly as possible, to get out of this crisis," said Louis Mapou, who was warmly congratulated by all the leaders or their representatives for his election as President of New Caledonia. New Caledonia's accession to full member status within the PIF in 2016 represents "an achievement for its stronger regional integration, but also for the development and protection of the Blue Pacific," he added. 
« 250 Strategy for the Blue Pacific Continent »
After discussing the mechanism for political dialogue, the leaders finally adopted a Joint Declaration on the Preservation of Maritime Areas in the Face of Sea Level Rise Due to Climate Change. This declaration should constitute a solid basis to support the development of the "2050 Strategy  for the Blue Pacific", supported by  PIF member countries and territories. Under the banner of this major regional initiative, the Forum intends to make the voice of the Pacific Islands heard, particularly during the next United Nations General Assembly in September 2021 and the COP 26 negotiations in November 2021.
Participants
U.S. President Joe Biden joined leaders to commemorate the 50th anniversary of the Pacific Islands Forum and reaffirmed the value the United States places on its relationship with the PIF and its members. Australia, the Cook Islands, Fiji, Nauru, New Caledonia, New Zealand, Niue, Papua New Guinea, Samoa, Tuvalu, Vanuatu, the Solomon Islands, French Polynesia and Tonga attended this 51st meeting of PIF leaders.