A First Step Towards an Enhanced Cooperation with Vanuatu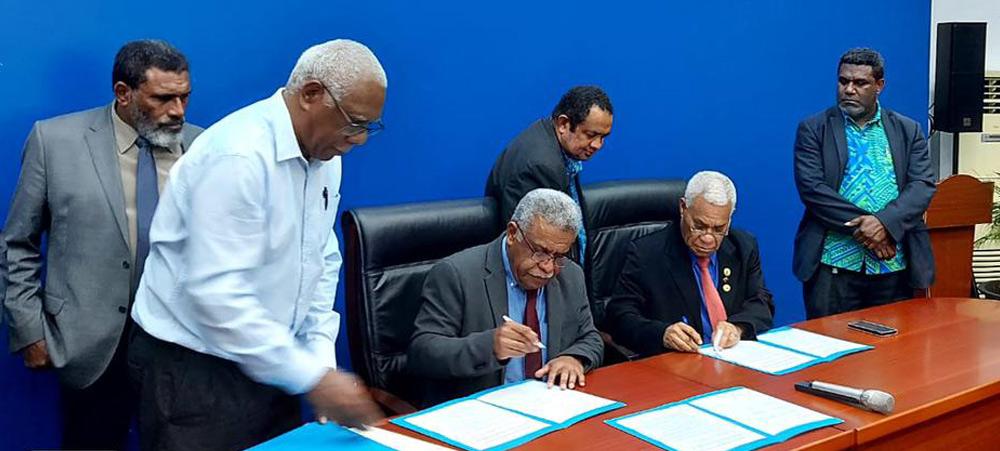 A New Caledonian delegation, led by the President of the Government Louis Mapou, made an official visit to Vanuatu from Friday 29 to Sunday 31 July. This trip was an opportunity to discuss all the major regional issues and to sign two declarations of intent.
Historical partners, New Caledonia, Vanuatu and France have been linked since 2002 by a cooperation convention, and since 2017, by a Bilateral Joint Cooperation Framework that covers some fifteen sectors of activity, including the economy and trade. The joint commission of cooperation between France, New Caledonia and Vanuatu, which ratifies each year the cooperation program with Vanuatu, met on Friday, July 29, at the Convention Center in Port-Vila, under the co-chairmanship of the President of the Government Louis Mapou, and the Prime Minister of Vanuatu, Bob Loughman, in the presence of the French Ambassador to Vanuatu Pierre Fournier and Adolphe Digoué,Minister for the Economy and Foreign Trade.
A New Submarine Cable
On this occasion, the two governments signed a joint declaration of intent between the Government of New Caledonia and the Office of Posts and Telecommunications of New Caledonia (OPT), on the one hand, and the Government of Vanuatu and the company Interchange Ltd (ICL), on the other hand, to consolidate the commitment of the parties to the installation of a second digital submarine cable that should link Port-Vila to Lifou. "The agreement follows a request to the Government of New Caledonia to facilitate the development of fiber optics in Vanuatu," said Charles Wéa, External Relations Advisor to the President of the Government. For Willie Karie, CEO of ICL, "this signing represents a major step forward for Vanuatu's connectivity, network security and overseas expansion.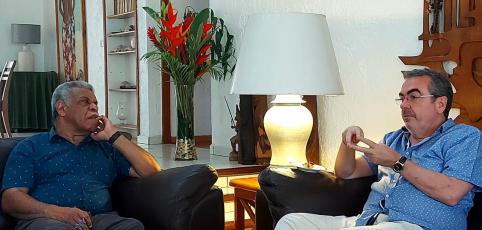 A Free Trade Agreement 
New Caledonia and Vanuatu have also signed a joint declaration on the development of economic and commercial exchanges between the two islands. This declaration of intent, which should be translated within three months into a free trade agreement, should include about fifteen products, both  New Caledonian and Ni-Vanuatu, exempt from import taxes. On the New Caledonian side, the agreement would cover several of Vanuatu's flagship products, such as kava, some processed or frozen agricultural products with specific quotas and chocolate. Wood supplies should, a priori, also be included. On the Vanuatu side, the agreement would cover the agri-food, goods and equipment and construction sectors. Currently, import taxes on a New Caledonian product that enters our closest neighbor's borders amounts on average to 20 to 30%.  "We have just taken a major step forward. From now on, we will be able to open negotiations with other countries as part of the integration of New Caledonia into the region," said a delighted Louis Mapou. After the declaration of intent, a delegation from Vanuatu is expected in Noumea in the coming months to formalize this cooperation . The government hopes that ithe agreementwill be effective in 2023.