The Trade Agreement With Vanuatu Soon to Be Operational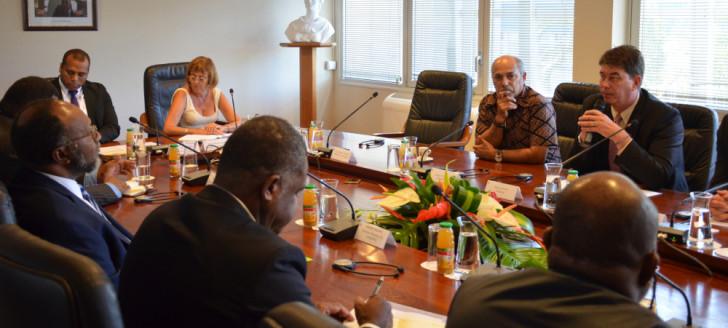 A Ni-Vanuatu delegation, led by Prime Minister  Charlot Salwai, visited Government Headquarters on 8 January 2020. The Trade Agreements between the two islands, and more specifically the one signed oin April 2019, were at the heart of the discussions. 
As long-standing partners, New Caledonia and Vanuatu are linked  by a Cooperation Agreement, which also involves France, since 2002.  A Bilateral Cooperation Framework, which covers about 15 sectords of activity, including  the economy and trade, entered into force in 2017.  "It is not surprising that Vanuatu is the first country with which we signed  a trade agreement" underlined President Thierry Santa." 
Adjustments
The Agreement signed on 23 April 2019, needs a few adjustments to be fully operational. These adjustments are "eagerly awaited by both parties," agreed Thierry Santa  and Charlot Salwai. "Free Trade" aims to facilitate trade relations by removing obstacles such as custom duties or trade restriction measures on two lists of  products exportable from New Caledonia to Vanuatu and vice versa. The remaining issues concern not only the certification of the origins of a product but also "phytosanitary standards, sometimes stricter in New Caledonia, which  desires to preserve its world-class sanitary status." added Thierry Santa.
Ratification
The technical meetings  between  officers from departments of the New Caledonian and Ni- Vanuatu governments  started early this week  and continued straight after the official meeting on 8 January, The Head of Vanuatu's  Department of Trade,  Joe Pakoa Lui, participated in these meetings. Once the final modifications have been made, the Agreement and the final lists will be submitted to institutional bodies in both territories, the Congress and the High Commission of the French Republic for New Caledonia,before their ratification and implementation. An Economic and Trade Committee, whose composition has also been at the center of the work currently being undertaken, will be tasked with monitoring both the lists and the agreement.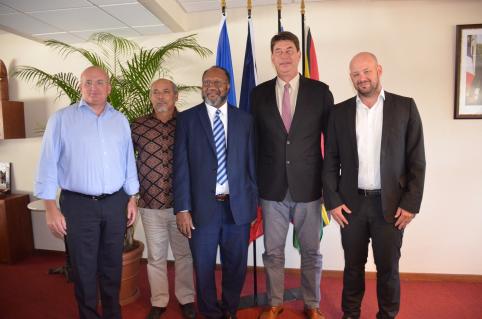 Climate Change
During their last meeting at the 50th Pacific Islands Forum,  in Tuvalu, both the President of the Government and Vanuatu's Prime Minister were struck by the impacts of rising sea levels on the Polynesian island. Climate change and its impacts on small Pacific States and Territories  were also discussed during the meeting.  Thierry Santa added that The Congress of New Caledonia  reccently approuved a call for a State of Emergency Declaration and that a conference on climate and biodiversity will be held later this year.  Charlot Salwai called for other countries "to join the efforts to find solutions."