The French Language Celebrated in Papua New Guinea
The Government of New Caledonia, represented by its Official Representative to Papua New Guinea, was invited to participate in the celebrations organized by the University of Goroka to honor French and other foreign languages.
At the University of Goroka, in the heart of the Papua New Guinea Highlands, students in the Department of Languages celebrated the foreign languages taught at the institution: French, Indonesian and Japanese. La Francophonie was also honored. As part of this event, the representatives of New Caledonia and Indonesia were invited on  14 September  to present certificates of validation of French and Indonesian courses to students. More than 35 young Papua New Guineans received the precious diploma after one or two years of learning..
Certificates and Online Courses
Learning a foreign language opens up many cultural and professional opportunities," said Alexandre Lafargue, Official Representatives of New Caledonia to Papua New Guinea. French is a Pacific language, and its mastery offers Papua New Guineans the possibility to share more of their own culture, economic opportunities and perhaps their vernacular languages already taught at the University of Goroka, such as Tok Pisin and Alekano. On behalf of the New Caledonian Government, the Official Representative offered the three most deserving students in the French course a two-week online course entitled "French Language and Culture in the Pacific." Provided by the Centre de rencontres et d'échanges internationaux du Pacifique (CREIPAC), based in Nouméa, this online course offers a module to reinforce French language skills and a cultural module, allowing students to discover the Kanak culture, the history of New Caledonia and its biodiversity.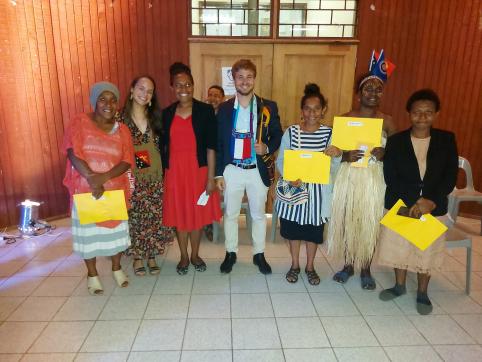 Outreach of the French Language
 The Official Representative also met with a group of students undertaking a French/Indonesian language course at the University and offered a screening the documentary "Terre de Métal" by New Caledonian director Alan Nogues, which enabled an exchange on the richness of the biodiversity of the Pacific and the challenges encountered during the exploitation of mining resources. An issue common to Papua New Guinea and New Caledonia. Through this type of exchange, New Caledonia, which is an associate member of the International Organization of the Francophonie, wishes to participate in the outreach of the French language in the region, alongside Vanuatu and French Polynesia. Numerous cooperation initiatives are carried out and contribute to the dynamism of the French-speaking world, the cultural and economic opportunities, it brings as well as to the active promotion of multilingualism as a whole.