Energy Ministers Summit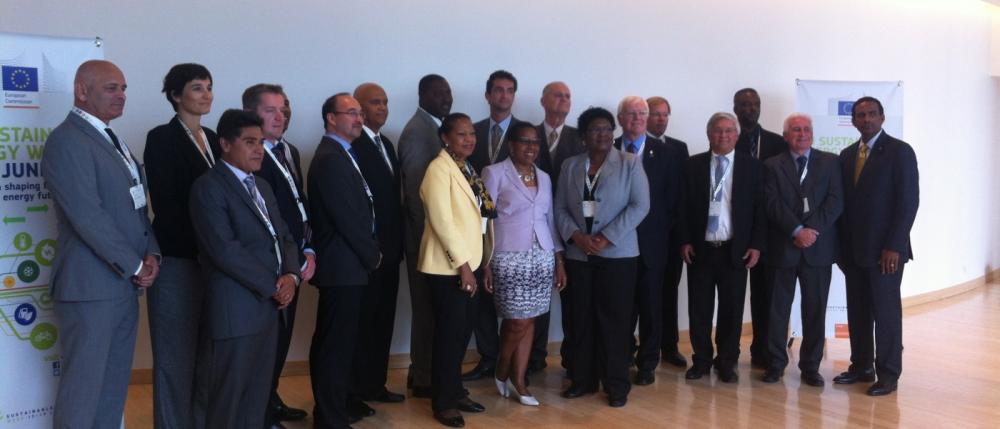 On June 15th and 16th, 2015, OCT Ministers for Energy met in Brussels, Belgium for the Summit of OCT Energy Ministers. Peggy Roudaut, Deputy Head of the Regional Cooperation and External Relations Department and Chloé Calvignac, Coordinator for European Affairs both attended.
In the margins of the EU Sustainable Energy Week and thanks to the funding from OCTA, this conference gathered around fifty participants, among which government representatives and OCT civil servants, along with leading research institutes and energy agencies.  Amongst them, the Environment and Energy Management Agency (ADEME), the International Renewable Energy Agency (IRENA) and the International Energy Agency (IEA)
In response to the conclusions made during the last EU-OCT Forum organised in February 2015, this summit allowed the adoption of a renewable energy roadmap in the OCTs. It sets joint strategies and actions to be simultaneously implemented with those already in place in some overseas territories. The objective is to significantly increase the market penetration of renewable energy and build cooperation within the OCT network as to renewable energy.
During the meeting, various representatives were able to affirm their respective commitments regarding renewable energy, raise awareness as to the particular challenges they are faced with and demonstrate their potential as centres of excellence. Amongst the various participants, Aruba (Dutch Caribbean island) was able to position itself as the leader in the OCTs on the subject of renewable energy by setting out its objectives to achieve energy independence in the coming years ("Smart Community" project).
In the margins of this summit, the 11th regional EDF programming process for the thematic programmes was also addressed, as a subcomponent will be focused on renewable energy. However, what made this session particularly meaningful was the lead-up to COP 21 to be held in Paris end of this year: the Directorates-General of the European Commission in charge of energy and development suggested that OCTA commit to preparing a Joint Declaration on Energy between the EU and OCTs. This would allow overseas territories to benefit from privileged access to European funds for technical assistance in this sector.